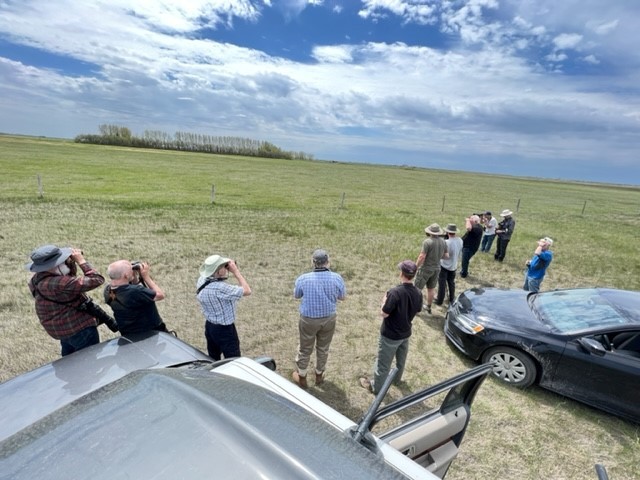 June 2nd - June 4th

Birding Retreat 2023

You are invited to attend the 21st Annual Manitoba Birding Retreat at Camp Arnes, June 2-4, 2023.

Keynote presentation by Jim Duncan, owl expert, photographer, naturalist, and teacher.
This is a great event to experience God's creation with others who love bird watching.
Registration is closed. The event is full. Thank you for your interest.

Group Transportation Option
This year we have the option to ride in a 24-seat passenger bus, leaving Friday morning at 7:00 am from Fort Garry Mennonite Church, 7:30 am from Bethel Place, and gathering at CMU south parking lot at 8:00 am. Bring breakfast snack to share. Those taking their vehicles are invited to meet at CMU. Together we will explore the Interlake region for birds around the Shoal Lakes and Lake Winnipeg areas. Check-in at Camp Arnes is at 4:30 with supper to follow.
No Experience required.
A special invitation is extended to students and novice birders of all ages. For birding outings, participants will be in groups of 4-7 persons. Novice participants will be teamed up with more experienced birders.
Sleep Options-Safety and Comfort
Since there may be participants who require their own rooms, we will attempt to provide this space as lodging is available. Three optional accommodations are available:
Primary lodging in Poplar Grove: 3-4 per room. Bring your own bedding.
Motel style, double occupancy option in Cedar Lodge. Bedding provided. Additional cost (see below)
RV sites available.
Cost

(If you have financial concerns, please reach out to a committee member)
Early Bird (register by April 30/23) $185
Regular Rate (register by May 14/23) $200
Additional options:
Cedar Lodge: motel style room for two. $30/pp extra
Full Time Student $100
Children Under 12 FREE
Bus (first 24 registered) $85/pp ($45/student)
Those traveling in cars, please provide your driver with fuel cost. We recommend $0.10/km.
Meals are provided from Friday lunch through Sunday breakfast.
What to bring
Binoculars and field guides
Sleeping bag, pillow
Towel, personal items
Outdoor clothing, hats, boots, sunscreen etc.
Re-usable water bottles and portable coffee/tea mugs
Indoor shoes/slippers
Spotting scopes
Bug repellant or mosquito netting