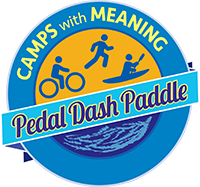 June 18th

Pedal Dash Paddle 2023 - Father's Day Edition

Sunday, June 18
Bring the whole family and celebrate your father by spending time with him at Camp Assiniboia!
Donate to Pedal Dash PaddleThis link will take you to a secure online donation form at the Mennonite Church Manitoba site.
All proceeds will go to supporting summer staff financially.
Pedal Dash Paddle Adventure Race.
Cycle, run/walk and kayak your way around camp! Family fun race or competitive options.
Scroll to the bottom of the page to register!

Race fee is $25/person or $90 for a family of four (each additional family member after that is $20/person). Supper is included.


Fun for the whole family.
If racing is not your thing there are activities for the whole family including: high ropes course, archery, kayaking, hiking or biking through the forest and petting farm.
Pulled pork supper.
Schedule:
2:30 - 4:00 PM - Activities for the whole family
4:00 - 5:00 PM - Pedal Dash Paddle Race and activities for the whole family
5:00 - 6:00 PM - Supper
Supper will be available for non-racers by donation(a tax receipt can be issued).
This is a fundraising event in support of Summer Camp Staff. Donations large and small are gratefully received.